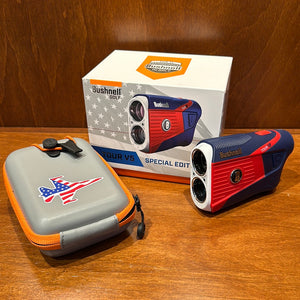 TOUR V5
Size, speed and accuracy evolved with a new generation of tech — featuring PinSeeker with Visual JOLT, BITE Magnetic Mount, and next level clarity and brightness.
Features:

Red, White and Blue Limited Edition Color
PinSeeker with Visual JOLT Technology
2x brighter and clearer optics than previous generation
Tour V5 is legal for tournament play
Ranges 400+ yards to a flag
6x magnification
Built-in BITE magnetic cart mount
Includes newly designed premium carry case, CR2 battery
2-Year Limited Warranty
Dimensions: 4.5" L x 1.5" W x 3" H
Weight: 8 oz.
Shop with a purpose.  Proudly, 100% of American Dunes annual profit will be given to the Folds of Honor Foundation.  Together, we will honor their sacrifice and educate their legacy.
This item listed on Shop.AmericanDunesGolfClub.com is shared with the Shop at American Dunes Golf Club. Items can become unavailable at the same time an order is placed. We appreciate your understanding in advance, and we are grateful for your support of American Dunes, and what we represent.