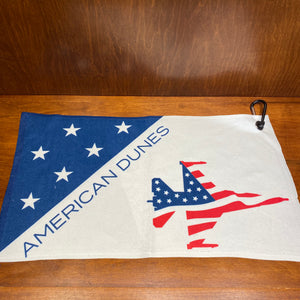 American Dunes Pin Flag 12"/20" Towel.  The towel features the design of the American Dunes Pin Flags, including Folded Flag, Club Text, and the Patriot Jet Icon Logo.
Shop with a purpose. Proudly, 100% of American Dunes annual profit will be given to the Folds of Honor Foundation. Together, we will honor their sacrifice and educate their legacy.
This item listed on Shop.AmericanDunesGolfClub.com is shared with The Shop at American Dunes Golf Club. Items can become unavailable at the same time an order is placed. We appreciate your understanding in advance, and we are grateful for your support of American Dunes and what we represent.