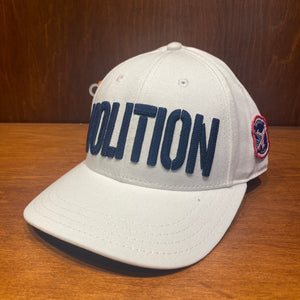 Stands for original, first-class, quality. Don't take our word for it. Check an online dictionary. Go ahead. We'll wait. It's no coincidence: When you partner with Pukka, you're getting completely custom, high-quality hats and cold-weather knits from people who care about the end product just as much as you.
Adjustable mid crown, structured, flat bill visor, cotton twill, five-panel cap, with snap-back closure. 
White cap features a raised purl stitch VOLITION (Navy) on the front of the cap, AD Fighter Patch Woven Label on the left side, and flat embroidery Patriot Jet Lockup Logo on the back of the cap. Additional detail includes a custom SIERRA HOTEL label, and CAVU Sky under visor. One size fits most. 
Shop with a purpose. Proudly, 100% of American Dunes annual profit will be given to the Folds of Honor Foundation. Together, we will honor their sacrifice and educate their legacy.

This item listed on Shop.AmericanDunesGolfClub.com is shared with The Shop at American Dunes Golf Club. Items can become unavailable at the same time an order is placed. We appreciate your understanding in advance, and we are grateful for your support of American Dunes, and what we represent.