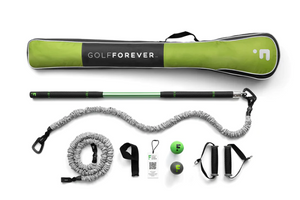 The ultimate golf training tool to unlock strength & mobility in your swing.

ONE INTEGRATED SYSTEM THAT DOES IT ALL 
AT-HOME GOLF FITNESS & PAIN-RELIEF TOOL
44.5-inch resistance training bar provides unmatched versatility to build strength and mobility in diagonal, rotational patterns that apply to your golf swing

Anchor light or medium resistance bands virtually anywhere and follow step-by-step coaching in the GolfForever app

Attach two included handles to use the bands without the training bar and additionally follow hundreds of strength, mobility and stretching routines in the app
THE PERFECT PRE-ROUND WARMUP CLUB 
Turn your home workout tool into the ultimate heavy warmup club with its D3 Swing Weight and Overloaded Quick-Interchange Ball attachment options

Follow 5- to 10-minute pre-round warmup and speed-building routines in the GolfForever app to arrive at the first tee primed and ready

USE WITH THE APP THAT'S CHANGING THE GAME
Your purchase includes 30 days of FREE access to the GolfForever app with over 1000 instructional videos and a personalized daily program designed for your body and needs

Learn from some of the most respected golf performance trainers, coaches and doctors in the world, who will guide you at your own pace and fitness level
Shop with a purpose.  Proudly, 100% of American Dunes annual profit will be given to the Folds of Honor Foundation.  Together, we will honor their sacrifice and educate their legacy.
This item listed on Shop.AmericanDunesGolfClub.com is shared with The Shop at American Dunes Golf Club. Items can become unavailable at the same time an order is placed. We appreciate your understanding in advance, and we are grateful for your support of American Dunes, and what we represent.