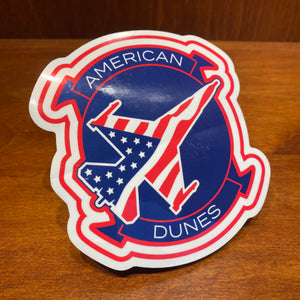 Glossy Die Cut Sticker, size 3.64" W x 4.00" H.  Shiny appearance and vibrant colors for an eye-catching sticker.  Laminated polypropylene die cut stickers are manufactured to be both waterproof and scratch-resistant. This means you can stick them to any smooth surface and they will stay beautiful. 
Shop with a purpose.  Proudly, 100% of American Dunes annual profit will be given to the Folds of Honor Foundation.  Together, we will honor their sacrifice and educate their legacy.
This item listed on Shop.AmericanDunesGolfClub.com is shared with The Shop at American Dunes Golf Club. Items can become unavailable at the same time an order is placed. We appreciate your understanding in advance, and we are grateful for your support of American Dunes, and what we represent.