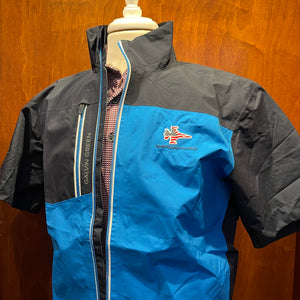 The Axl men's short sleeve golf rain jacket has an adjustable chest width, chest pocket, and repositioned side seam for added comfort while you play. The elastic drawstring at the hem allows for adjustments, and this lightweight fabric is bluesign® approved. This short sleeve golf rain jacket can be worn over a short sleeve shirt or a long sleeve mid layer. Even on dry days, you'll benefit from the wind protection of this jacket.
- 100% Waterproof
- Windproof
- Extremely breathable
- Lightweight
- bluesign® approved fabric
- PFC (EC) FREE Water Repellent Treatment
- Adjustable chest width
- Chest pocket
- Repositioned side seam for optimum comfort
- Elastic drawstring at the hem
Item features a stitched Patriot Jet Lockup Logo on the left chest.  Available in multiple sizes and colors.
Shop with a purpose. Proudly, 100% of American Dunes annual profit will be given to the Folds of Honor Foundation.  Together, we will honor their sacrifice and educate their legacy.
This item listed on Shop.AmericanDunesGolfClub.com is shared with The Shop at American Dunes Golf Club. Items can become unavailable at the same time an order is placed. We appreciate your understanding in advance, and we are grateful for your support of American Dunes, and what we represent.